Ceybank Century Growth Fund : Equity Fund
(Bloomberg: CEYCEGW:SL)
Fund Facts at a Glance
Fund Type
Growth Fund
Investment Objective
Growth of Capital
Invests in
Equity Securities
Dividends
Paid Annually
Risk
Potentially High
Taxation
Income Free of Tax
Trustee
National Savings Bank
Custodian
Bank of Ceylon
Management Fees
1.650% P.A
Trustee Fees
0.250% P.A
Custodian Fees
0.085% P.A
Front End Fee
3%
Exit Fee
Nil
Minimum initial Investment
Rs 5,000/-
Currency
Sri Lanka Rupees (LKR)
Start date
22nd January 1997
Introduction
Ceybank Century Growth Fund is the first equity Fund launched under Growth Fund category in Sri Lanka and the second Fund floated by Ceybank AML. Ceybank Century Growth Fund has become the largest unit trust in the Growth Fund category in Sri Lanka with net assets over Rs. 1,025 million as at 31st March 2013, in line with sister Fund's leading position in the Income and Growth Fund category.
Objective
The Fund seeks long term capital appreciation through investing primarily in equity securities listed in the Colombo Stock Exchange. The Fund can invest up to 97% of the assets in equity whilst maintaining 3% of the assets in near cash for reasons of liquidity in Sri Lanka Rupee denominated assets.
Style
The Fund Manager adopts an active portfolio strategy which places particular emphasis upon large capitalized companies that are positioned for long term growth. The Fund strives to diversify the equity investments across economic sectors and individual securities in order to reduce the risk of high exposure to a specific sector or stock.
Risk factors
Investing in Sri Lankan equity include risks normally associated with investing in shares as well as political and economic uncertainties unique to Sri Lanka. Accordingly the unit prices can fluctuate according to the value of underlying investments. Since the investments are denominated in Sri Lanka Rupees, the investors of other currencies will have to bear the risk of currency fluctuations.
Taxation
Capital Gains - Capital gains are exempted from taxes

Dividends - Dividend paid to unit holders are tax free in the hands of unit holders.

Withholding Tax - None
Dividend history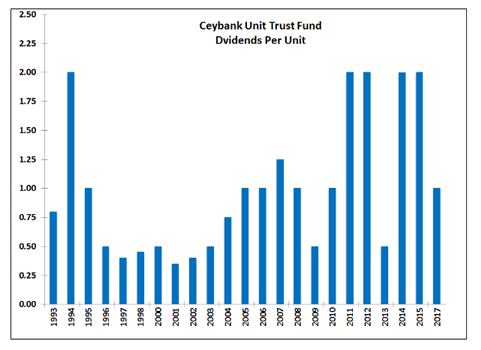 Fund performance as at 31st March 2013
| | Return % | ASI** Movement |
| --- | --- | --- |
| 03 Months | 2.23% | 1.64% |
| 06 Months | -3.39% | -3.96% |
| 12 Months | 4.87% | 5.82% |
| 24 Months | -20.48% | -20.63% |
| 36 Months | 42.50% | 53.99% |
* Percentage change in the bid price as at 31-March-2013. Adjusted for dividends.
** ASI - Colombo Stock Exchange All Share Index
Top 10 equity investments as at 31st March 2013
Company
HATTON NATIONAL BANK – NV
ROYAL CERAMICS LANKA PLC
ASIAN HOTELS & PROPERTIES PLC
AITKEN SPENCE HOTEL HOLDINGS PLC
LANKA IOC PLC
SINGER SRI LANKA PLC
JOHN KEELLS HOLDINGS PLC
SAMPATH BANK PLC
SRI LANKA TELECOM PLC
COMMERCIAL BANK OF CEYLON PLC-NV
* ASI - Colombo Stock Exchange All Share Index
** MPI - Colombo Stock Exchange Milanka Price Index
Diversification of the Equity Portfolio as at March 2013