Ceybank Unit Trust : Income and Growth Fund
(Bloomberg: CEYBKUT: SL)
Fund Facts at a Glance
Fund Type
Income and Growth Fund
Investment Objective
Income & Growth of Capital
Invests in
Equity & Fixed Income Securities
Dividends
At managers discretion
Risk
Moderate
Taxation
Refer Government Tax policy
Trustee
National Savings Bank
Custodian
Bank of Ceylon
Management Fees
1.650% P.A.
Trustee Fees
0.250% P.A.
Custodian Fees
0.085% P.A.
Front End Fee
5%
Exit Fee
Nil
Minimum initial Investment
Rs 1,000/-
Currency
Sri Lanka Rupees (LKR)
Start Date
1st March 1992
Introduction
Ceybank Unit Trust – Income and Growth Fund is the first Fund floated by CAML, in 1992. Ceybank Unit Trust has grown to become the largest unit trust Fund in the Income and Growth Fund category in Sri Lanka with more than 5,000 unit holders.
Objective
To achieve long term capital appreciation while enhancing income by investing in a diversified portfolio with mix of listed equity securities with strong growth potential and in Government and Corporate debt.
Style
The Fund Manager adopts an active portfolio strategy which places particular emphasis upon selecting under-valued equity and attractive fixed income securities. The Fund strives to diversify the equity investments across economic sectors and individual securities and fixed income investments between gilt-edged and corporate debt including cash equivalents.
Risk factors
Investing in Sri Lankan financial assets include the risk normally associated with investing in shares as well as country risk synonymous to Sri Lanka. Accordingly, the unit prices can fluctuate according to the value of the underlying investments. Since the investments are denominated in the local currency, the investors in other currencies would have to bear the currency risk as well.
Special Features
Suitable for investors who seek income & capital growth

Dividend distribution at managers discretion

Less volatility than investing in one or few shares.

Minimum investment is Rs 1,000/=

Units can be redeemed at any time at the prevailing market price

No Exit Fee
Taxation
Taxes payable by the Fund & the Investor will be based on the prevailing Government tax policy
Dividend
Dividend payable by the Fund is at the discretion of the manager
Performance of CUT VS All Share Index (ASI) since launch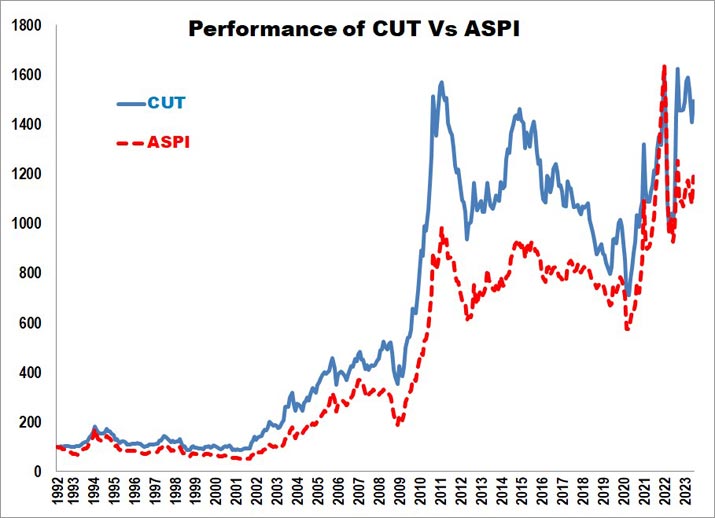 DIVERSIFICATION OF THE EQUITY PORTFOLIO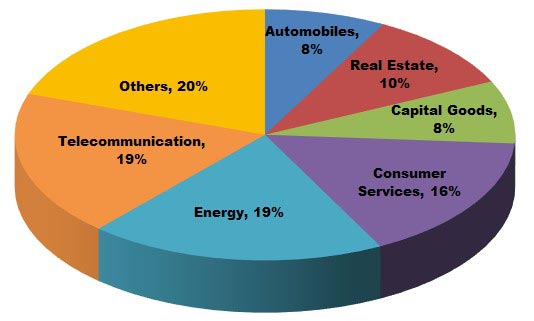 TOP TEN EQUITY HOLDINGS (Alphabetical Order) - CEYBANK UNIT TRUST
Company
ASIAN HOTELS & PROPERTIES PLC
COLOMBO LAND & DEVELOPMENT COMPANY PLC
EQUITY TWO LTD
KELANI TYRES PLC
KELANI TYRES PLC
LANKA HOSPITALS CORPORATION PLC
LANKA IOC PLC
SRI LANKA TELECOM PLC
TRANS ASIA HOTELS PLC
VALLIBEL ONE PLC
CUT Fund Performance based on NAV
Simple Returns
Period
CUT
ASPI
2022
-0.96%
-30.56%
2021
35.43%
80.48%
2020
10.12%
10.52%
2019
7.57%
1.27%
2018
-11.37%
-4.98%
2017
-6.66%
2.26%
2016
-7.97%
-9.66%
2015
-8.07%
-5.54%
2014
33.78%
23.44%
2013
2.18%
4.78%
2012
-12.30%
-7.10%
2011
-15.58%
-8.46%
2010
96.80%
96.01%v
*Percentage change in NAV as at end December. Adjusted for dividends.
** ASPI - Colombo Stock Exchange All Share Index
| Fee Structure | |
| --- | --- |
| Front Load | 5.00% |
| Management Fee (p.a.) | 1.65% |
| Trustee & custodian Fee (p.a.) | 0.335% |
| Exit Load | Nil |
| | |
| Other Information | |
| Trustees | National Savings Bank |
| Custodian | Bank of Ceylon |
| Currency | Sri Lankan Rupees (LKR) |
| Minimum Initial Investment | LKR 1000 |
| Minimum Additional Investment | LKR 1000 |